Growing up in New Jersey I developed a love of tomatoes at an early age.  I can vividly remember the juicy taste of the just-picked, still warm from the sun, summer tomatoes.  It didn't matter how they were fixed, with a little salt/pepper, a drizzle of balsamic vinegar, nestled among fresh slices of mozzarella cheese, they were delicious. I got the idea from this salad when I first saw a recipe in the Dish Entertains cookbook. I played around with it and ended up adding one of my favorite ingredients, capers!
Xx. Heather
Tomato and Bread Salad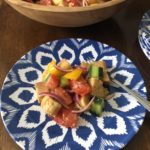 This salad is perfect for a casual gathering with family or friends. It's best in the summer when tomatoes are abundant and bursting with flavor.
1 baguette (cut into 1-inch cubes)
3 tbsp olive oil (favorite is California Olive Ranch Olive Oil)
2 large, ripe tomatoes (cut into wedges)
1 English cucumber (cut into 1-inch cubes)
1 yellow bell pepper (cut into 1-inch cubes)
1/2 red onion (cut in half lengthwise and thinly sliced)
1 tbsp capers
20 basil leaves (coarsely chopped)
Vinaigrette
1 clove garlic (minced)
1 tbsp dijon mustard
1/4 cup sherry vinegar (or sub red wine vinegar)
1/2 cup olive oil
1/8 tsp salt
1/8 tsp ground pepper
Preheat over to 350 degrees Fahrenheit.

Toss bread cubes in olive oil and place on baking sheet while oven is heating. Toasted bread cubes stirring occasionally for about 10 minutes until golden brown. Let cool.

Whisk vinaigrette ingredients together in a bowl until emulsified.

Combine bread cubes, tomatoes, cucumber, yellow pepper, red onion, capers and basil in a large bowl. Add vinaigrette and toss well. Season with additional salt/pepper if desired.

Let sit for 30 minutes so the bread cubes can soak up all the juices and flavor and serve.