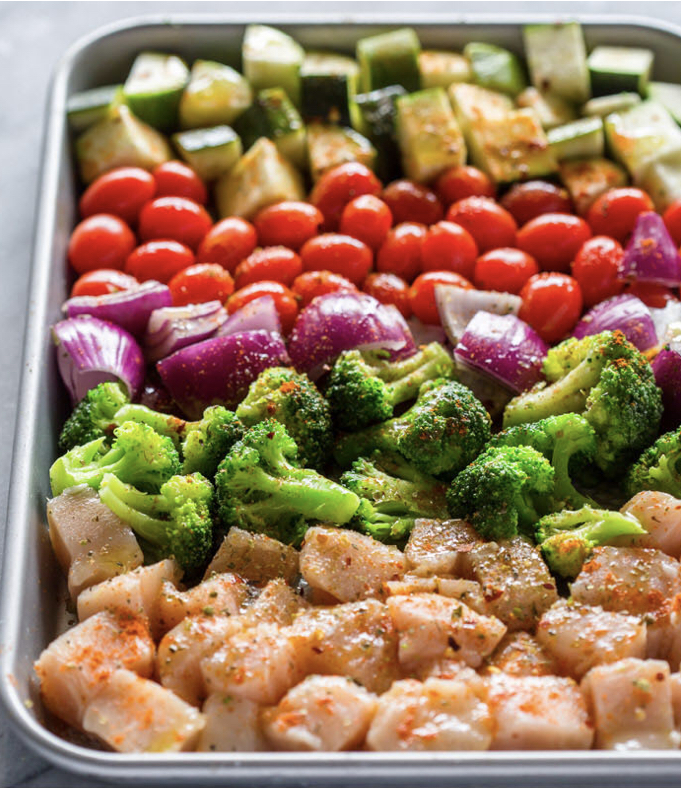 I love cooking. I even love a recipe that takes some time as long as it yeilds a great meal but most weeknights we need something quick and ready to go when we get home. I'm always on the hunt for a good, healthy recipe I can prep ahead, that doesn't take too long to cook and delivers in the flavor department. This Rainbow Sheet Pan Supper checks off all the boxes and is simple to put together. I first stumbled across it on gimmedelicious.com where they use it as part of their weekly meal prep…another great idea! It's also really versatile…so if you want to switch the zucchini or tomatoes for another veggie, go for it! If you compare the two recipes I've tweaked it a little to incorporate a seasoning we love and I usually change the zucchini to half zucchini, half yellow squash!
Xx.H
Rainbow Sheet Pan Supper
– Ingredients –
2 medium chicken breasts boneless skinless cut into 1/2 inch pieces
1 cup broccoli florets
1 small red onion chopped
1 cup grape or plum tomatoes
1 medium zucchini chopped
2 cloves garlic minced
1-2 tablespoon(s) Stonewall Kitchen Chicken & Pork Rub
2 tablespoons olive oil (I use California Olive Ranch EVOO)
2-4 cups cooked rice of choice (optional)
Pre-heat oven to 450F. Line a baking sheet with aluminum foil and set aside. Place the chicken and veggies in a mixing bowl. Drizzle with the olive oil and sprinkle the rub and garlic over the chicken and veggies. Mix to evenly coat the chicken and veggies. Bake for 15-20 minutes or until the veggies are charred and the chicken is tender. If eating with rice, make a bed of it on each plate or bowl and divide the chicken and veggies evenly on top. If you have left overs, store them in your fridge for up to 5 days or freezer for up to 2 months. They make a great, healthy on-the-go lunch option.
Tip: If you are able to prep the chicken, put it in a ziplock or airtight container with the olive oil and rub in the morning and leave it in the fridge for the day, I highly recommend it. It gives the seasoning more time to soak in and really adds to the flavor!